"The Fragile Beauty of Loyalty" is the 1st Enterprise comic, and was published by IDW Publishing as part of their Waypoint series.
Description
We are excited to feature the first Enterprise comic EVER! It's a sweet story of a boy and his time-traveling dog guaranteed to warm even the coldest of hearts.
Summary
In December 2120, the Archer family lives in upstate New York, but will soon be moving to San Francisco. Eight-year-old Jonathan Archer resolves to explore nearby Nacacijin Gorge in the Adirondack Mountains. His mother Sally Archer asks him to take his dog Maska, but Jonathan doesn't appreciate the pet and leaves him behind.
Halfway down the gorge, Archer is kicked from behind by a time traveling Suliban and tumbles onto an iced-over lake. As the Suliban dematerializes, the ice gives way. Archer plunges into the cold water, and the ice quickly reseals in the frigid temperatures.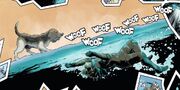 He bangs fruitlessly against the ice, then spots a beagle. The dog hits a tree branch repeatedly against the ice, and it shatters. The dog drags Archer out of the lake. He smiles gratefully at the dog. Suddenly the ice begins to crack under the dog, and Archer quickly snaps up the beagle before it can fall in. As he apologizes to the dog for leaving him home, Archer sees that it isn't Maska. The beagle then dematerializes.
The next morning, Archer wakes to tongue-licking from Maska, but now he welcomes it. He promises to bring his dog with him whenever he goes exploring.
Captain's log, Jonathan Archer of the starship Enterprise.

Crewman Daniels tells me he's a "temporal agent" – a kind of time traveler – and that factions in the Temporal Cold War have sent operatives back into my past to try to kill me before I have the chance to enroll in Starfleet.
Apparently, Daniels also sent another member of the Enterprise crew back in time to stop these operatives. Someone actually volunteered for the job, even with the knowledge that time travel is messy, and he or she might not make it back from the deep past. My deep past.
It's all pretty hard to believe. If it's true, though, I want to know who has that kind of loyalty.
Archer sits in his quarters, petting Porthos, and suddenly realizes who saved his life.
References
Characters
Henry Archer • Jonathan Archer • Sally Archer •

Maska

• Porthos •

unnamed Suliban

Referenced only
Starships and vehicles
SS Enterprise • replicas (

biplane

• Phoenix • Saturn V • Supermarine Spitfire)

Referenced only
Locations
Earth (Adirondack Mountains •

Nacacijin Gorge

• New York •

Schenectady County

)

Referenced only
Races and cultures
States and organizations
Science and classification
PADD • replica • time travel
Other references
beagle

• branch • captain's log • chain • dog • ice • moon • mountain • nature preserve • pet • planet • snow • Temporal Cold War • tree • water
Appendices
Background
Images
Connections
Timeline