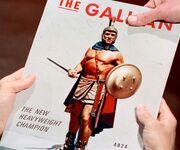 The Gallian was a 23rd century magazine published on Magna Roma.
In 2267, Spock browsed through an issue of The Gallian while he, James T. Kirk and Leonard McCoy met with a group of escaped slaves in a cavern. The cover featured a gladiator and the headline "The New Heavyweight Champion". Spock brought the magazine to the attention of James T. Kirk, who browsed through the pages. He observed that it included advertisements for the Jupiter 8 automobile, Neptune Bath Salts, and Mars toothpaste. (TOS episode & Star Trek 11 novelization: Bread and Circuses)
Community content is available under
CC-BY-SA
unless otherwise noted.