The Janus Gate was a miniseries of three books, written by L.A. Graf, and set during the first season of Star Trek: The Original Series between the episodes "The Naked Time" and "Charlie X". All three volumes were published in 2002. (An omnibus hardcover edition was published the same year.)
The Novels
Edit
Beam aboard for a bold new era in Star Trek storytelling! Beginning with this thrilling all new trilogy, the original five-year mission of the Starship Enterprise is reimagined via the many valiant crew members who served under the legendary command of Captain James T. Kirk. Who are these exceptional men and women, often asked to make the ultimate sacrifice for the sake of interstellar peace and exploration? What are their stories? Their saga begins in...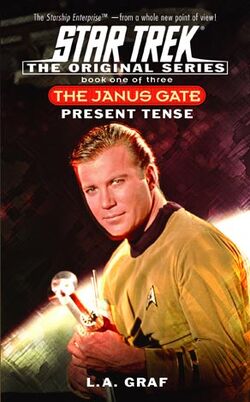 The crew of the U.S.S. Enterprise is exploring the seemingly peaceful and uninhabited world of M-3107 when a bizarre and unexplicable transporter accident causes both Captain Kirk and Dr. McCoy to vanish completely. Transporter records suggest that the two men were transported somewhere, but their ultimate destination remains a mystery.
Now in command of the Enterprise, Spock dispatches a search-and-rescue team -- consisting of Security Chief Giotto, Transporter Technician John Kyle, and Chief Helmsman Hikaru Sulu -- on an urgent mission to recover the missing officers.
But then the rescue team disappears as well!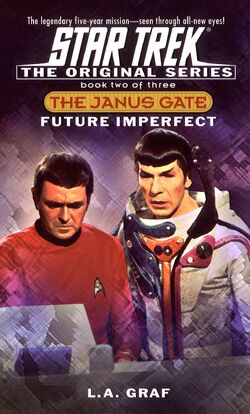 On a desperate mission to rescue their missing captain, the shuttle Copernicus and its crew have become lost in time and space, transported by a powerful subspace vortex to a hellish future time line where the brutal Gorn Hegemony has all but conquered the United Federation of Planets. Stranded on a transformed Federation colony, now a Gorn mining world worked by oppressed human slaves, Helmsman Hikaru Sulu meets an older version of a man he barely knows, Pavel Chekov, who now leads a ragtag band of freedom fighters against the Gorn.
Teamed together for the first time, Sulu and Chekov must struggle to survive in a future that should never have happened!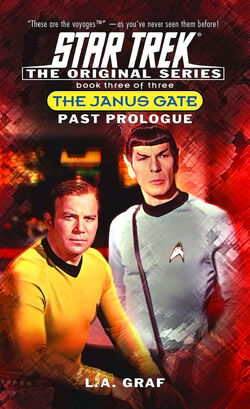 Thanks to the accidental triggering of an ancient alien technology, Captain Kirk has been banished to his own past. During a brutal massacre on Tarsus IV, Kodos the Executioner entered the history books as one of the most genocidal tyrants of the twenty-third century. As a boy, Kirk barely survived. Can he stand by now and let it happen again?
Lt. Kevin Riley is the only other survivor of Tarsus IV serving aboard the U.S.S Enterprise. His traumatic memories provide Spock's best hope of finding their time-lost captain -- before Kirk alters their time line forever!
Community content is available under
CC-BY-SA
unless otherwise noted.