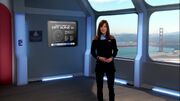 Starfleet Academy SCISEC Brief 009: The Origins of the Ba'ku and the Son'a Conflict is a short episode in the DVD Extra series of Starfleet Academy SCISEC Briefs. In this episode, an unnamed Starfleet Science Officer examines the history of the Ba'ku and Son'a, along with the intervention of the United Federation of Planets in 2375.
Referenced only 

Anij • Artim • Matthew Dougherty • Gallatin • Kell Perim • Jean-Luc Picard • Ru'afo • Sojef • Worf, son of Mogh
Referenced only 
Type-6 shuttlecraft • Type-11 shuttlecraft • Type-15 shuttlepod • Unnamed Federation shuttlecraft classes#24th century

Referenced only 
Community content is available under
CC-BY-SA
unless otherwise noted.