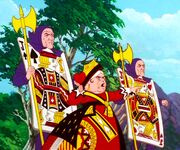 The Playing Cards were fictional characters created by Lewis Carroll in the 19th century. They appeared in the novel Alice's Adventures in Wonderland as security guards and soldiers for the Queen of Hearts, the ruler of Wonderland. They were Human-sized, with human heads, but had the bodies of playing cards.
History
[
]
In 2269 on the Amusement Park planet, trans-droids of The Playing Cards were built by the planet's Master Computer. The Queen of Hearts ordered her soldiers use their axes and decapitate Leonard McCoy. McCoy was able to evade them long enough to get beamed back aboard the USS Enterprise. (TAS episode & Log Three novelization: Once Upon a Planet)
In the aired episode, the Queen was escorted by only two guards, the Jack of Spades and the Jack of Hearts. In the novelization, McCoy thought the entire deck of playing card soldiers were after him.
Appendices
[
]
Connections
[
]
Appearances
[
]
External link
[
]