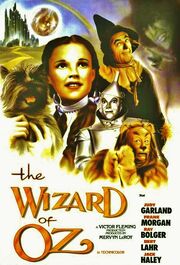 The Wizard of Oz was a motion picture released in 1939, based on the novel The Wonderful Wizard of Oz by L. Frank Baum. It was considered one of the greatest fantasy films of the 20th century, and remained popular into the 24th century.
When responding to a distress call from the ECS Kobayashi Maru, Captain Jonathan Archer sarcastically compared himself to Dorothy Gale of Kansas, the central character of The Wizard of Oz. (ENT novel: Kobayashi Maru)
James T. Kirk admitted that he'd seen the film but had never read the original book. (TOS novel: Sanctuary)
During a visit to Delta Gamma IV, Kirk nicknamed the blue plants there "Oz poppies", after the poppies which appeared in both the book and the film. (TOS novel: Death's Angel)
The Wizard of Oz was a favorite film of a member of USS Enterprise's psychiatric team, who conjured an image of the Scarecrow character as a companion during a visit to the Amusement Park planet. (TOS short story: "The Girl Who Controlled Gene Kelly's Feet")
Annika Hansen and her mother read the Oz books before their capture and assimilation by the Borg. (VOY short story: "Maturation")
The film was the original source of the song, "If I Only Had a Heart," which Dr. Ira Graves taught to Data shortly before his death. (TNG episode: "The Schizoid Man")
A number of lines from the film remained part of the human lexicon over the centuries, often quoted in the course of casual conversation:
In an alternate timeline 2269, Lieutenant Jeremy Richardson stood on a desolate planet and observed, "...we're not in Oz." (TOS novel: Killing Time)
In 2341, Glen Majors called Data "Tin Man". (TNG novel: Secret of the Lizard People)
In 2364, Riker, after a discussion with Data, noted to himself that "the tin man wants a heart" in reference to the mechanical character, the Tin Woodman. (TNG novel: Ghost Ship) Later, Armus called Data "tin man". The following year, Data learned about the lyrics of the Tin Man's song. (TNG episodes: "Skin of Evil", "The Schizoid Man", "Tin Man")
In 2364, Geordi La Forge quoted the film after being transported to an unknown location, though Data did not get the reference. (TNG novel: The Peacekeepers)
In 2367, as her personal universe was shrinking, Beverly Crusher quoted from the film. (TNG episode: "Remember Me")
In 2372, a computer-generated Clown told a shackled Harry Kim, "If there's no place like home, then maybe you can get there by tapping your heels together three times." (VOY episode: "The Thaw")
In 2373, whilst interacting with Dr. Elias Giger, Jake Sisko randomly mentioned lions. As he and Nog had also been trying to retrieve Julian Bashir's teddy bear for him, Nog said, "Lions, Gigers and bears", to which Sisko added, "Oh my." (DS9 episode: "In the Cards")
Community content is available under
CC-BY-SA
unless otherwise noted.