Lieutenant Themon was a 23rd century Andorian woman, a member of Starfleet who served as crewmember of the Federation starship USS Enterprise under the command of Rear Admiral James T. Kirk in the 2270s. Themon's specialty was as a sociologist. While she was serving aboard the USS Enterprise, she had a romantic relationship with Pavel Chekov.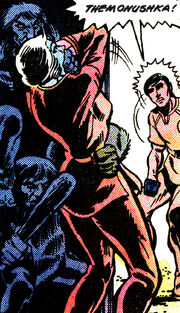 In the year 2274, Themon was part of a landing party to the planet Valerian. The mission was a routine resupply and medical check for the small Federation colony of 13, 12 of whom were Andorians. Themon's assignment was to study their social interactions and prepare a profile report. It was her first landing party duty as a Starfleet officer, and she was embarrassed to have been scared that the colony's encampment appeared abandoned and damaged. Chekov was also in the landing party, and reassured her, calling her a sweetheart in Russian. Suddenly, beings which looked like trolls knocked her out. Despite a fight with James T. Kirk and Chekov, the trolls managed to kidnap her. She was treated well, however, and after Chekov and Kirk found her, they saw one of the trolls attracted to a necklace Themon wore, a friendship symbol containing gems from Andor. It was the last clue which answered a riddle for Kirk, that the 12 trolls were actually the missing colonists, who had recognized Themon and the necklace. (TOS comic: "There's No Space Like Gnomes'!")
Community content is available under
CC-BY-SA
unless otherwise noted.