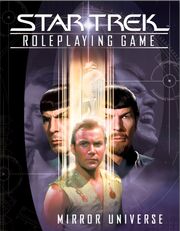 Through a Glass, Darkly was the name of an RPG sourcebook released by Decipher in 2005, focused entirely on the mirror universe.
"I had an opportunity to observe your counterparts here quite closely. They were brutal, savage, unprincipled, uncivilized, treacherous... I found them quite refreshing."
– Spock to Kirk and McCoy, Mirror, Mirror
Through the looking glass... darkly.
Haven't you ever wanted to phaser the captain, level a helpless planet, and steal your weight in gold-pressed latinum? Now you can – on the other side of the mirror. In this setting book for the Star Trek Roleplaying Game, you can bring Federation ideals of justice to the Mirror Universe, or revel in your own character's dark reflection. Prowl the Terran Empire with Captain Kirk of the I.S.S. Enterprise, or crush puny Human rebels with Intendant Kira of the Cardassian-Klingon Alliance. So grab your agonizer, grow a goatee, and watch your back–because in the Mirror Universe, nothing is what it seems...
Through a Glass Darkly: The Mirror Universe includes:
Complete setting information for the Terran Empire from Star Trek and the brutal Alliance from Star Trek: Deep Space Nine.
Rules and guidelines for creating your existing character's mirror image.
Everything you need to play a "Mirror Series," including new skills, cruel traits, and the malign Wheel of Comeuppance.
Star Trek RPG Rules and statistics for the agonizer, the Tantalus Field, and the deadly devices of Imperial Security.
Unsolved mysteries of the Mirror Universe to explore on your own or use in your series.
The sourcebook was only released and distributed electronically. It provides players with a fairly complete history and scientific explanation of the mirror universe, much of which contradicts at least mildly with information given in other non-canon sources. It also gives information on how to create a mirror counterpart for an already existing character in the RPG.
This article is a stub relating to an author, illustrator or other publishing production information. You can help our database by expanding on it.
B'Elanna • Deanna Troi • George and Gracie • Harry Mudd • Hikaru Sulu • James T. Kirk • John Gill • Jonathan Archer • Kira Nerys • Magda Kovacs • Melakon • Nyota Uhura • Revok • Rota Sevrin • Spock • T'Jal • T'Pau • T'Pol • V'ger • Danaher • Darthalo • Menes
Cities and planetary locations
[
edit
|
edit source
]
Acamar III • Alpha Centauri VII • Andor • Bajor • Betazed • Bolarus • Bolarus IX • Breen • Cardassia Prime • Ceti Alpha V • Earth • Ferenginar • Gorlan • Husnock • Organia • Rigel II • Rigel III • Rigel V • Rigel VII • Risa • Qo'noS • Sigma Iota II • Tuburon • Vega IX • Vulcan
Alliance Forces Command • Assassins of Q • Bolian Resistance • Bureau of Interstellar Hegemony • Caduceus Incorporated • Chronowerx Corporation • Dominion • Imperial Senate of the Terran Empire • Imperial Security • Imperial Starfleet • Keeler Aerospace • Khak'ma • Klingon-Cardassian Alliance • Ministry of Genetic Purity • Ministry of War • Ministry of Vassal Affairs • Orion Cabal • Orion Syndicate • Oswaldites • Procurer's Guild • Propaganda Ministry • Resource Acquisition Bureau • Revenue Ministry • Romulan Star Empire • Security Ministry • Science Ministry • Science Police • Tal-Shaya Partners • Terran Empire • Terran Rebellion • Tholian Assembly • Zakrim • Stalinoid • Carterian • Vulcan Underground
Stories featuring the mirror universe
Enterprise
episode: "In a Mirror, Darkly" • prose: Age of the Empress • "Nobunaga"
Discovery
episodes: "Into the Forest I Go" • "Despite Yourself" • "The Wolf Inside" • "Vaulting Ambition" • "What's Past Is Prologue" • "Terra Firma" • comics: Succession ("Issue 1" • "Issue 2" • "Issue 3" • "Issue 4")
The Original Series
episode: "Mirror, Mirror" • comics: Hell's Mirror • The Mirror Universe Saga ("... Promises to Keep" • "Double Image" • "Deadly Reflection!" • "The Tantalus Trap!" • "Masquerade!" • "Behind Enemy Lines!" • "The Beginning of the End..." • "Homecoming...") • Fragile Glass • Mirror Images ("Issue 1" • "Issue 2" • "Issue 4" • "Issue 5") • "The Mirror, Cracked • prose: Spectre • Dark Victory • Preserver • The Sorrows of Empire • "Ill Winds" • "The Greater Good" • video game: Shattered Universe
Kelvin timeline
comics: Mirrored ("Part 1" • "Part 2") • "Parallel Lives, Part 2" • Live Evil ("Part 1" • "Part 2" • "Part 3")
The Next Generation
comics: "Mirror Images, Issue 3" • Mirror Universe Collection (TNG - Mirror Broken comics: "Origin of Data", "Prelude", "Issue 1", "Issue 2", "Issue 3", "Issue 4", "Issue 5" • TNG - Through the Mirror comics: "Issue 1", "Issue 2", "Issue 3", "Issue 4", "Issue 5" TNG - Ripe for Plunder comics: "Chapter One", "Chapter Two", "Chapter Three", "Chapter Four", "Chapter Five" • TNG - Terra Incognita comics: "Issue 1", "Issue 2", "Issue 3", "Issue 4", "Issue 5", "Issue 6") • prose: Dark Mirror • Three • The Worst of Both Worlds • "The Traitor" • "The Sacred Chalice" • "For Want of a Nail" • Rise Like Lions
Deep Space Nine
episodes: "Crossover" • "Through the Looking Glass" • "Shattered Mirror" • "Resurrection" • "The Emperor's New Cloak" • comic: "Enemies & Allies" • prose: Dark Passions • Warpath • Saturn's Children • Fearful Symmetry • "A Terrible Beauty" • The Soul Key • "Freedom Angst" • Disavowed
Voyager
prose: The Mirror-Scaled Serpent • "Bitter Fruit" • comic: "Mirrors & Smoke"
New Frontier
comics: Turnaround ("Part I" • "Part II" • "Part III" • "Part IV" • "Part V") • prose: Cutting Ties • "Homecoming"
Klingon Empire
prose: "Family Matters"
Titan
prose: "Empathy"
Vanguard
prose: "The Black Flag"
Miniseries and anthologies
RPG sourcebook: Through a Glass, Darkly • comics: The Mirror Universe Saga • Turnaround • Mirror Images • prose: Mirror Universe Trilogy • Mirror Universe (Glass Empires • Obsidian Alliances • Shards and Shadows)
Community content is available under
CC-BY-SA
unless otherwise noted.