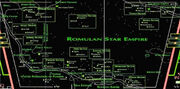 Tigelis is a star system located in the space of the Romulan Star Empire, in the galaxy's Beta Quadrant.
The Tigelis system is located in the Tiber sector, in the vicinity of Roulean, Xhuj and the Samnar sector. This system's orbit was the location of a number of worlds, including seventh planet Tigelis VII. (Last Unicorn RPG modules: The Way of D'era: The Romulan Star Empire, Raiders, Renegades & Rogues)
Tigelis I
Tigelis II
Tigelis III
Tigelis IV
Tigelis V
Tigelis VI
Community content is available under
CC-BY-SA
unless otherwise noted.