For other uses, see Titan.
The Titan class was a 25th century Federation starship class, a science destroyer and variant subclass of the 24th century Luna-class reconnaissance science vessel (RSV), in Starfleet service from the 2410s decade. The class became reality with the launch of a new USS Titan (NCC-98100), based on the legendary Luna-class starship Titan class. (STO website: It's the Titan!)
Service history and specifications
[
]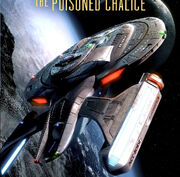 The Titan gained recognition as the ship of Captain William T. Riker from 2379 onwards. (TTN novels: Taking Wing, The Red King, LD episode: "No Small Parts")
In early 2411, at some point after stardate 87971.0[1] and soon after the Shattering of the Klingon Empire[2], William T. Riker's USS Titan was honored when it became the namesake for the Titan-class science destroyer prototype. As part of the process, Comet-class lead ship USS Comet was also retrofitted into a fleet-version of the science destroyer. The Titan itself was built in a more streamlined configuration. The ceiling of the mission pod was replaced by a holographic energy barrier. (STO website: It's the Titan!)
All Titan-based science destroyers and the Luna RSV subclasses were modular and their components interchangeable between them. The mission pod suspended from pylons above the saucer section was equipped by default, and could be removed.
In Starfleet Shipyards Operations shipyard interfaces, the new USS Titan (NCC-98100) visually represented the tier 6 science destroyer configuration of the Luna-class family from the year 2411 onward. (STO - Klingon War mission: "Welcome to Earth Spacedock")
Livery
[
]
In the 25th century, the design of the Titan-class science destroyer allowed its commanding officer to choose from different designs of hull materials, which could be modified further at shipyards. (STO - Klingon War mission: "Welcome to Earth Spacedock")
Furthermore, the installation of deflector shields from specific factions modified the hull appearance, including shields from the Reman Resistance, the Breen Confederacy and the Dominion. (STO missions: "Coliseum", "Cold Storage", "Boldly They Rode")
Known vessels
[
]
Appendices
[
]
Connections
[
]
External links
[
]
↑
STO - Klingon Civil War mission: "

Partisans

"