"To Walk the Night" was a 1993 TOS annual, the fourth annual issue of DC Comics' 1989 series of Star Trek comics. The story took place in 2254, during Christopher Pike's command of the USS Enterprise. In this story, Spock questioned his choice to serve aboard Enterprise while the crew investigated strange occurrences at a mining colony.
Summary
For the last few weeks, Lieutenant Spock was walking the ship's corridors at night, his Vulcan half missing his world's traditions, and he wonders if he's made the wrong choice to join Starfleet in defiance of his father. Meanwhile, a strange distress call comes in from a mining colony. Harl Malley reports colonists acting strangely, some seemingly possessed by alien ghosts, and many have the same recurring nightmare.
Captain's log, supplemental
Pike beams down with Spock, Doctor Phillip Boyce, José Tyler and Yeoman Colt. Colony physician Barbara Asanjian exhausted all known medical explanations for the mystery, and shows the landing party a metallurgist who was normal six days ago, tried sabotaging the colony's life support two days ago, and was now speaking in an alien language from a holding cell. Pike asked for additional personnel so the ship's science and medical sections can investigate. Looking for anything awry, Spock notes an unusually high number of meteor showers in recent weeks, which the colonists didn't investigate fully, and wants to check some impact sites personally, in case his telepathy sensed something that sensors missed, but Pike prefers that everyone stay inside the facility for safety.
Personal log, Lieutenant José Tyler

.

The situation on Beta Trilochus just keeps getting weirder and weirder. Under other circumstances, I might have been attracted to the woman I interviewed today. Very attracted. Her name was

Dana Taylor

— a structural engineer. Smart. Pretty, too. But she had this look in her eye... As if she might crack at any moment. Seems these nightmares were really getting to her. Nightmares everyone is having down here... about another world — or maybe this world, a long time ago. She said she saw other life-forms in these nightmares — the ones that are supposedly haunting the colony. I asked her what she thought these alien spirits wanted. And she actually had an answer for me.
She said they resented our presence on their planet — they hated us, in fact, for disturbing the lifelessness in which they'd rested for so long. She said they were haunting us because they wanted the place to themselves again. And they wouldn't stop until we were gone — And it would get a lot worse the longer they stayed. Then all of a sudden, she started spouting gibberish — like that fellow Hoffman in the detention cell. Shouting till she was hoarse — And really violent! That's when I called for help.
On this ship, Number One finds trace amounts of elibrium in the colonists' blood and asks Montgomery Scott to help find its source. Below, Tyler and CPO Garrison are attacked by a berserk colonist in the cafeteria.
Captain's log, supplemental

We had another outbreak of violence today. That's fourteen outbreaks altogether — and who knows how many more before we're through!
Garrison discovers a containment suit missing — someone has left the facility. Pike tells Asanjian that the colonists will be evacuated, quarantined at a Federation rehabilitation facility, and within moments all of the colonists go berserk, including Asanjian. Pike asks Spock to lead a team to protect the facility's life support systems, but Spock doesn't answer — he has been telepathically drawn outside. Scott locates a concentration of elibruim two kilometers outside, thinks it came from offworld, and sends Pike the coordinates. At life support, Colt saves Tyler's life from insane colonists.
Spock approaches tentacles of a living creature that emerge from a large meteorite. It is laced with elibrium and surrounded by large pods. As Spock suddenly faints, a pod approaches and reshapes itself into a duplicate of the Vulcan.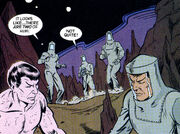 Both Spocks are trying to stand up when they're found by Pike, Boyce and Garrison. Boyce says the duplicate is in Spock's shape, but isn't alive yet, and Pike shoots it with his laser. The alien's metabolism spikes, and the landing party all collapse. Pods approach them, and Garrison feels himself being duplicated, but Spock is able to grab a laser and destroy the pods.
Later, the creature was subdued and contained in a holding cell at the colony. Spock explains that it is a colonizer, which procreates by duplicating native lifeforms. As an alien mind gestates within the duplicate, both minds coexist, and the duplicate is able to live peacefully within a native population without being noticed. The alien consciousness usually is stronger than the duplicated original mind, but in this case Human minds were stronger. The colonists are in fact alien duplicates, their bursts of madness a result of telepathic attempts by the colonizer to reassert their alien consciousness. As they wrestled with how to proceed with their lives, Pike assured them the Federation would assist.
After they beamed back, Spock decided he belonged aboard the ship after all. Pike excused his having disobeyed orders to leave the mining facility, as he had been under telepathic coercion.
References
Characters
Barbara Asanjian

• Phillip Boyce • J.M. Colt • Garrison •

Burt Hoffman

•

Harl Malley

• Number One • Christopher Pike • Nils Pitcairn •

Powell

• Montgomery Scott •

Sorvino

• Spock •

Dana Taylor

• José Tyler • Sam Yamata •

Colonizer

• unnamed USS Enterprise personnel

Referenced only
Starships and vehicles
Locations
Planets and planetoids
Beta Trilochus colony

Referenced only
Stars and systems
Beta Trilochus

Referenced only
Races and cultures
States and organizations
Science and classification
air purifier • asteroid belt • communicator • computer • containment suit • coordinates • hypospray • laboratory • laser • medicine • quarantine • sensor • transporter • tricorder • viewscreen
Ranks and titles
bartender • captain • colonist • commander • doctor • engineer • first officer • lieutenant •

metallurgist

• officer • physician • psychiatrist • science officer • yeoman
Other references
air • alien • apple • assignment patch • blood • book • botanical garden • briefing room • captain's log •

Colonizer

• colony • corridor • day • dream • earthquake •

elibrium

• emotion •

evacuation

• evolution • flower • foods and beverages • galaxy • ghost • hour • ice • kilometer • magnetic storm • mantle • medical •

medical school

• memory • meteor • meteor shower • mile • mining • minute • moustache • night shift • nightmare • non-corporeal • personal log • protoplasm • quarters •

rehabilitation facility

• salt • science division • security team •

seed

•

ship

• shore leave • sleep • star •

Starfleet uniform (2240s-2260s)

• telepathy •

toxin

•

tradition

• transporter room • universe • water
Appendices
Related media
Background
The title is taken from Hamlet, act I scene V: "I am thy father's spirit, doom'd for a certain term to walk the night, and for the day confined to fast in fires till the foul crimes done in my days of nature are burnt and purged away. But that I am forbid to tell the secrets of my prison-house, I could a tale unfold whose lightest word would harrow up thy soul, freeze thy young blood, make thy two eyes, like stars, start from their spheres, thy knotted and combined locks to part and each particular hair to stand an end like quills upon the fretful porpentine. But the details of this eternal blazon must not be to ears of flesh and blood." This dialogue was also delivered by Anton Karidian in TOS episode: "The Conscience of the King".
Images
Connections
Timeline
External link