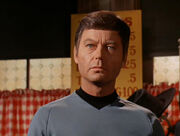 Thomas McLaury (June 30, 1853 - October 26, 1881) was a human male who lived in the 19th century. He was most famous for his membership in a gang of cowboys who became involved in a gun battle down the street from the O. K. Corral in October 26, 1881. Their adversaries were Wyatt Earp, Morgan Earp, Virgil Earp and John Holliday, arguably all members of a rival gang. Both sides were endorsed by local branches of law enforcement. McLaury, his brother Frank and Billy Clanton were all killed in the gunfight.
In 2268, Tom McLaury's identity was imposed upon Leonard McCoy in a bizarre and rather inaccurate recreation of the shootout created by the Melkotians. (TOS episode: "Spectre of the Gun", TOS novelization: The Last Gunfight)
External links
Edit
Community content is available under
CC-BY-SA
unless otherwise noted.