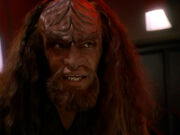 Tony Todd is an American actor who played Kurn, son of Mogh in Star Trek: The Next Generation and Star Trek: Deep Space Nine. He also played the adult Jake Sisko in the DS9 episode: "The Visitor" and voiced Korban in Elite Force II. He also reprised his role as Kurn in Star Trek: Klingon and Kurn/Rodek in Star Trek: Online.
He also played a Hirogen Alpha in Star Trek: Voyager Season 4 Episode 16.
Todd is also well known for his roles in the Candyman and Final Destination series and for his appearances in many other horror films and television series.
Connections
[
]