For other uses, see Trial by Fire.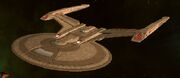 "Trial by Fire"' is a mission in the Star Trek Online video game, part of the Discovery Tutorial cycle of events in the Age of Discovery season update.
Summary
The player receives a distress call.
Description
Mission text

After one of the rougher training cruises in Starfleet history, you, Savea, and Tilly have finally retaken command of the <<shipname>>.
Stranded in deep space, your crippled ship can't send a distress call or even go to warp. Until those problems are remedied, you and your crew of academy cadets are under constant threat of further Klingon attacks.
References
Characters
Cyrano Jones • J'Ula •

Ian Kwon

•

Evelyn Savea

• Thy'kir Shran •

Tamav

• Sylvia Tilly
Starships and vehicles
Races and cultures
Appendices
Images
Connections