m

 

(3 intermediate revisions by one other user not shown)
Line 1:
Line 1:
−

[[file:Turbolift DC Comics.jpg|thumb|[[James T. Kirk|Kirk]], [[Spock]] and [[Doctor]] [[Leonard McCoy| McCoy]] ride a turbolift on [[Stardate]] 8752.5.]]

+

[[file: DC Comics.jpg|thumb|[[ T. Kirk|Kirk]], [[Spock]] and [[Doctor]] [[Leonard McCoy| McCoy]] ride a turbolift on [[]] 8752.5.]]

−

'''Turbolifts''' are small scale transportation units found on most [[starship]]s and [[starbase]]s. They allow vertical and horizontal movement around the ship or facility at relatively high velocities. For the comfort of passengers turbolifts are often fitted with [[inertial dampener]]s to reduce the effects of changes of speed.

+

'''Turbolifts''' are small scale transportation found on [[starship]]s and [[starbase]]s.

 
+
 
+

==History and specifics==

 
+

Turbolifts allow vertical and horizontal movement around a ship or facility at relatively high velocities. For the comfort of passengers turbolifts are often fitted with [[inertial dampener]]s to reduce the effects of changes of speed.

 
 
 

{{stub-technology}}

 

{{stub-technology}}

 
 
−

==External Link==

+

====

 
+

===References===

⚫
 
 
+

* {{en|TNG|Encounter at Farpoint}}

⚫
 
 
+

* {{rpg|LUG RPG|Star Trek: The Next Generation Players' Guide}}

⚫
 
 
+
 
+

===External link===

 
⚫
 
+
 
⚫
 
⚫
---
Latest revision as of 02:27, 27 October 2019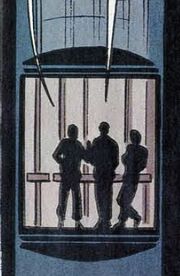 Turbolifts are a type of small scale transportation technology found on many types of multi-level starships and starbases.
Turbolifts allow vertical and horizontal movement around a ship or facility at relatively high velocities. For the comfort of passengers turbolifts are often fitted with inertial dampeners to reduce the effects of changes of speed.
Community content is available under
CC-BY-SA
unless otherwise noted.