From solicitations: In part two of "Slingshot," Admiral Jellico steals a prototype time ship...or does he? Not everything is what it seems.
Note this solicitation was published with the working title Slingshot, which was later changed to Turnaround.
Captain Katerina Mueller arrives on Space Station Bravo on the behest of Mackenzie Calhoun to protect Admiral Elizabeth Shelby. The two try to determine what incurred to bring on this, and what danger that can befall station. Meanwhile the USS Excalibur-A rushes to begin their search for the Paradox. Receiving updates from Admiral T'Pax, and Dr Wyatt on the Paradox location. It is determined that the Paradox has no weapons, and that Admiral Jellico may be handing off the technology to a enemy of the Federation, yet the orders are merely to find her, and take no action. Back on New Thallon, Robin Lefler is paid a visit from her mother Morgan Primus in the holosuite, as it is revealed she is indeed pregnant with the child of the late Si Cwan. The Spectre stumbles upon the Paradox, being outfitted by some strange docking vessels. As Soleta, and Lucius observe the apparatus injecting the smaller ship, their systems fail, and they are detected. After a failed escape attempt, the Paradox blocks their exits, and Soleta is beamed aboard. To her surprise, as well as his, Admiral Jellico is before her.
Burgoyne 172 • Mackenzie Calhoun • Raul De Paulo • Edward Jellico • Zak Kebron • Robin Lefler • Lucius • Katerina Mueller • Morgan Primus • Elizabeth Shelby • Soleta • Tania Tobias • T'Pax • Alyssa Wyatt

Referenced only 
USS Excalibur-A (Galaxy-class) • Paradox • IRW Spectre (Spectre-class) • USS Trident (Galaxy-class)
Referenced only 
cloaking device • counselor • ion glide • legate • pregnancy • spacedock • techno-organic • tribune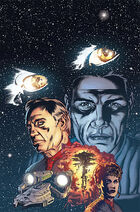 Community content is available under
CC-BY-SA
unless otherwise noted.