The Type-11 shuttlecraft was a type of Federation shuttlecraft that had been introduced into Starfleet service by the mid-2370s decade.
Service history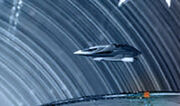 In the year 2375, Jean-Luc Picard and Worf used a Type-11 shuttlecraft assigned to the USS Enterprise-E to capture Data in orbit of Ba'ku. (TNG movie: Insurrection)
In 2379, the Enterprise deployed a handful of Type-11s to aid in the aborted evacuation of the Cestus III Colony. (TNG - The Q Conflict comic: "Issue 1")
The USS Titan carried a complement of eight Type-11 shuttlecraft when it was launched. Four were of the reconfigurable type. (TTN novels: Taking Wing, The Red King, Over a Torrent Sea)
Specifications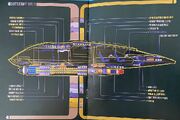 At 16 meters long , the Type-11 was one of the larger shuttles in use by Starfleet. They were fitted with warp drive [2] and had ejectable warp cores. Some were designed to be reconfigurable for multi-mission profiles, and could be outfitted as aquashuttles. This entailed lowering and reconfiguring the warp nacelles to act as pontoons, and fitting stabilizing fins, linear induction thrusters, searchlights, undersea sensor arrays and tractor beam emitters, and extra structural integrity field generators.[3]
Known craft
Appendices
Connections
Background
The name "Type-11" originates in production materials. It was the name that designer John Eaves used when creating sketches and schematics of the model.
References
External link