The Type-15 Shuttlepod was a small Federation shuttlecraft in operation in the late 24th century. The main production base for these light short-range sublight craft was Starbase 134's Integration Facility at Rigel VI.
Specifications
[
]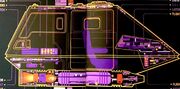 In its standard configuration, the Type-15 shuttlepod could accomodate two crewmembers, a pilot and a systems manager. It was equipped with two 500 millicochrane impulse engines which gave it a maximum speed of 12,800 meters per second, eight DeFI 657 hot gas RCS thrusters and three sarium krellide storage cells. It had a mass of 0.86 metric tonnes. (TNG reference: Star Trek: The Next Generation Technical Manual)
Other configurations
[
]
Type-15A
[
]
The Type-15A variant was slightly heavier than the standard Type-15 at 0.97 metric tonnes. It also had a higher top speed of 13,200 m/sec.
Type 16
[
]
The Type-16 variant was classed as a medium short-range sublight shuttle. It was a lengthened version of the Type-15 at 4.8 meters long and had more powerful engines, but a lower top speed. The two 750 millicochrane impulse driver engines propelled the Type-16 to a maximum speed of 12,250 m/sec. It was mounted with eight DeFI 635 hot gas RCS thrusters and four sarium krellide storage cells. (TNG reference: Star Trek: The Next Generation Technical Manual)
Known craft
[
]
Appendices
[
]
Connections
[
]
References
[
]
External Link
[
]