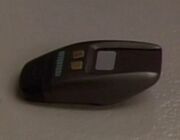 A type-1 phaser was the smallest, most basic weapon carried by Starfleet and other Federation personnel. Type-1 phasers were typically carried when it was inappropriate to carry a larger weapon, such as on diplomatic missions, or "undercover" work.
The Type-1 had eight adjustible settings, ranging from stun to heat through disruption to disintegration. The 23rd century type-1 in use in the 2260's incorporated a small flip-up sight, and was fired by a trigger on the bottom front of the unit. Several versions of the Type-2 phaser incorporated a Type-1 phaser into their design.
A low power variant of the Type-1 was also available. This variant only had three settings, from light to heavy stun. (TNG reference: Star Trek: The Next Generation Technical Manual)
In 2362, three unsolved homicides were committed by an assailant using a type-1 phaser on burn setting. In 2366, the murderer was determined to be Starfleet officer Dar Ableen. (SCE eBook: Security)
In 2369, Benjamin Sisko used one of these particular models of phaser in dealing with Bajoran terrorists placing bilitrium grenades in Deep Space 9's docking pylon 3. (DS9 video game: Crossroads of Time)
Settings: 1-8 (light stun to light disrupt)
Range: 5-50 meters
Length: 12 centimeters
Mass: 0.2 kilograms
Energy: 160 charges (good for 8 shots on maximum setting)
Connections
Edit
Community content is available under
CC-BY-SA
unless otherwise noted.