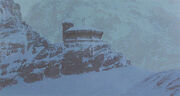 ULAPG42821DB (nicknamed La Pig) was a Federation science outpost established on the Class P planet, Psi 2000, in 2266. The outpost was established on the planet so that Federation scientists could study the massive shifts in the gravitational fields on the planet as it began to break up.
As the scientists observed the break-up they soon became infected by the Psi 2000 virus and began to act in an irrational manner. When the USS Enterprise arrived to evacuate the outpost, a landing party discovered that the base had been exposed to the elements and all of the research personnel were dead. (TOS episode/novelization: "The Naked Time")
Community content is available under
CC-BY-SA
unless otherwise noted.