For other uses, see Aldrin.
The USS Aldrin was a Federation starship, an Oberth-class science vessel in Starfleet service in the 24th century, named in honor of 20th century American astronaut, Buzz Aldrin.
This was a successor in the name Aldrin following a cutter spacecraft that had been in Starfleet service in the 23rd century. (TOS novel: Burning Dreams)
Service history and disposition
Edit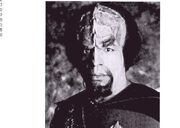 In the 2360s decade, Worf was assigned to the vessel, around the year 2361. (GKN novel: Honor Bound)
In 2362, an away team from the Aldrin—including Ensigns Soleta, Tania Tobias, and Worf—investigated abandoned Starfleet Outpost T-22 on Kalandra Minor. (NF - No Limits short story: "Revelations")
The Aldrin captured a Romulan pirate at the outpost. (NF novel: The Two-Front War)
USS Aldrin personnelEdit
See also: USS Aldrin (Oberth-class) personnel
Command division
Edit
Sciences division
Edit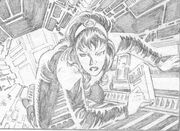 Operations division
Edit
Engineering department
Edit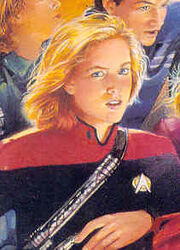 Security department
Edit
Appendices
Edit
Connections
Edit
Appearances and references
Edit
Community content is available under
CC-BY-SA
unless otherwise noted.