For other uses, see Armstrong.
The USS Armstrong[2] (NCC-317856)[3] was a 32nd century Federation starship, a Constitution-class[3], Kirk-subclass temporal heavy battlecruiser[1] in Starfleet service in the 3180s decade. Around that time, the Armstrong was operating from the new joint Federation Headquarters and Starfleet Headquarters after the Burn. (DSC episode: "Die Trying")
Service history and disposition
[
]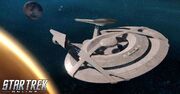 The Armstrong visited Khitomer Alliance space in the 2411. It became the template for the Alliance's temporal heavy battlecruiser. (STO website: The Kirk Class Takes Command)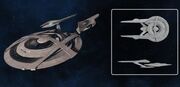 The Armstrong was active in the 3180s decade. At one point in 3189, this ship was docked at the Federation Headquarters space station.
In that year, the time-displaced USS Discovery arrived at Federation HQ. Its 23rd century crew marveled at the futuristic Starfleet ships visible from their ship's viewports. The Armstrong was positioned just above the Federation Headquarters space station when Discovery settled into its parking position. (DSC episode: "Die Trying")
Appendices
[
]
Connections
[
]
Appearances and references
[
]
Appearances
[
]
References
[
]
External links
[
]