For other uses, see Aurora.
The USS Aurora (NCC-72321) was a 24th century Federation starship, a Nova-class science vessel in Starfleet service in the 2370s decade. (Decipher RPG module: Starships)
Service history and disposition
Namesake
The Aurora borealis was a bright glow in a planet's atmosphere caused by charged particles colliding with the magnetic field. It was best visible at night. (TOS novel: Where No Man Has Gone Before)
Active service
Following the disappearance of the Nova-class USS Equinox in the Badlands in the year 2371, Starfleet reassigned the Aurora to conduct extensive mapping of the plasma storm-ridden Alpha Quadrant region. (Decipher RPG module: Starships)
By the time of the Dominion War, Starfleet operated another ship named USS Aurora. This larger Aurora was destroyed in the war in 2373. (TNG - The Dominion War novel: Behind Enemy Lines)
Legacy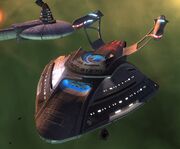 By the 2400s, Starfleet had commissioned variants of the Nova class. One of the new types, the tier 2 Aurora-class science vessel, was led by the USS Aurora (NCC-91270), which was active in the year 2409 and participated in the Federation-Klingon War of 2405-2410. (STO - Klingon War mission: "Neutral Zone Diplomacy")
Appendices
Connections
Nova-class science vessel starships
Federation Starfleet
(primary universe)
standard configuration
Anticipation • Asimov • Aurora • Binary • Charribey • Equinox • Everett • Forrest-B • Foundation • Freeman Dyson • Huxley • Lionheart • McCoy • Morgan • Norfolk • Nova • Nova-B • Pulsar • Quasar • Solstice • unnamed
variant configurations
Aurora-subclass: Aurora • McCoy • Equinox-subclass: Equinox • Galen-subclass: Galen • Quasar-subclass: Forrest • Quasar • Rhode Island-subclass: Jhamel • Rhode Island
Confederation of Earth,

Corps


(alternate timeline)
standard configuration
Dougherty • Quinn
Terran Imperial Starfleet
(mirror universe)
standard configuration
Nova-B • Nova-C • Nova-F • unnamed
variant configurations
Equinox-subclass: Equinox • Rhode Island-subclass: Rhode Island
Appearances and references
Appearances
References
Apocrypha
The Last Unicorn Games ebook, Ship Recognition Manual, Volume 1: The Ships of Starfleet, published after they lost their license, lists the Aurora's registry as NCC-74692.