For other uses, see Cochrane.
The USS Cochrane (NX-95400) was a 25th century Federation starship, the Cochrane-class long-range science vessel prototype in Starfleet service from the 2400s decade. (STO - Klingon War mission: "Welcome to Earth Spacedock")
Service history and disposition
A long-lasting Oberth-class USS Cochrane remained in service into the year 2396. (STO novel: The Needs of the Many)
The prototype Cochrane had entered service by the time of the Federation-Klingon War of 2405-2410. The design was an evolution of the 2370s-era Intrepid-class. The Cochrane was the angular, more militaristic-looking counterpart to the more streamlined Discovery-class Intrepid successor. Both the USS Cochrane and the USS Discovery were active in the year 2409. The Cochrane retained its NX registry number denoting an experimental vessel.
From 2410, the Cochrane represented its class in the Starfleet Shipyards Operations interface. (STO - Klingon War mission: "Welcome to Earth Spacedock")
Khitomer Alliance flag officer in, or aligned with, Starfleet, deployed Cochrane for missions around the galaxy's four quadrants as part of the four-quadrant strategy. (STO - Klingon War mission: "Welcome to Earth Spacedock", admiralty system)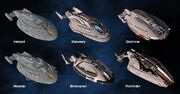 Following the Battle of Excalbia on stardate 84999.22[1] in early 2411, which saw the prominent involvement of hero ships from the Federation's past and present, the Cochrane was among the long-range science vessels that received a refit to legendary starship qualifications. (STO - Legacy missions: "Measure of Morality (Part 2)", "Welcome to Earth Spacedock")
The Cochrane was upgraded to a tier 6 legendary miracle worker multi-mission science vessel. (STO website: Legendary Miracle Worker Multi-Mission Science Vessel)
Appendices
Connections