For other uses, see

Comet

.
The USS Comet (initially NX-83103, later NCC-98100[1]) was a 25th century Federation starship, the prototype Comet-class reconnaissance science vessel in Starfleet service from the 2400s decade. (STO - Klingon War mission: "Welcome to Earth Spacedock")
Service history and disposition
[
]
The Comet class entered service in the year 2409. Its design was an evolution of the Luna-class science vessel, in service since the late 2370s[2]. As the Luna was named for Earth's moon specifically, the Comet was named after comets in general.
In Starfleet Shipyards Operations shipyard interfaces, the Comet visually represented the fleet tier 5 recon science vessel configuration of the Luna-class family from 2410 onward. (STO - Klingon War mission: "Welcome to Earth Spacedock")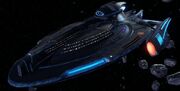 In early 2411, at some point after stardate 87971.0[3] and soon after the Shattering of the Klingon Empire[4], William T. Riker's legendary starship USS Titan underwent a refit to become the lead ship of the new Titan-class science destroyer. As part of the process, the Comet was retrofitted into a fleet-version of the science destroyer. The ship retained its hull structure but received upgrades "under the hood", and the new registry number NCC-98100. (STO website: It's the Titan!)
Appendices
[
]
Connections
[
]
Appearances and references
[
]
Appearances
[
]
References
[
]
External link
[
]