For other uses, see Douglass.
The USS Douglass was a 24th century Federation starship, a Nebula-class science vessel in Starfleet service in the 2370s decade. (ST video game: Armada II)
Service history
The Human Frederick Douglass was an American statesman and writer in the 19th century. Douglass was a former slave who came to be identified with the cause to abolish slavery before the American Civil War. (DS9 - Rebels novel: The Conquered)
In the 2370s, the USS Douglass had entered service and operated near System 176, the star system containing Starbase 176. (ST video game: Armada II mission: "Recovery")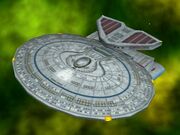 In 2377, the Borg Collective commenced a new invasion of the Alpha Quadrant. (ST video game: Armada II mission: "Invasion")
In that year, the USS Douglass was assimilated by the Borg. Unlike other assimilated ships, its hull was not augmented with cybernetic components.
The Borg attacked System 176 on stardate 54566.1, which was reported to Starfleet by a Venture-class scout. Captain Jean-Luc Picard, who had operated in the neighboring sector, led the USS Enterprise-E and a small fleet of ships to System 176. They sent away teams to recover ships wrecked by the Borg and reinforced the facilities at Starbase 176.
When Starfleet secured the Starbase 176 system, the Borg attempted to escort the Douglass out of the sector.
Long-range scans then identified a fleet of Borg ships, including the recently assimilated USS Douglass, entering the system. Picard's fleet, including two Iwo Jima-class assault ships, confronted the Borg forces. Starfleet destroyed the escorting Borg ships, pummeled the Douglass with phasers until its deflector shields collapsed, and then beamed Starfleet Marine Corps officers aboard to retake the Douglass. (ST video game: Armada II mission: "Recovery")
The information contained in the Douglass computer banks led Starfleet to identify a hidden Borg base, including a Borg nexus, along the Romulan Neutral Zone. (ST video game: Armada II mission: "Along the Neutral Zone")
Appendices
Connections
Nebula-class starships
Federation Starfleet
Standard configuration
Aldebaran • Alnwick • Aristotle • Barclay • Bell • Bellerophon • Berkeley • Boadicea • Bonchune • Bonhomme Richard • Bostwick • Bougainville • Boyle • Caddebostan • Chang Teh • Chatelain • Chesapeake • Chin • Columbia-B • Conklin • Courageous • Cousteau • Crick • Curie • Darwin • Descartes • Discovery • Douglass • Edison • Einstein • Endeavour • Euclid • Faraday • Farragut • Fermi • Foucault • Galileo • Gallant • Garuda • Gates • Godel • Hawking • Hegel • Heisenberg • Hera • Himori • Honshu • Hsien Ning • Hubble • Jacobus • Jah'tor • Jasmine • Kelvin • Kerra'don • Khitomer • Knuth • Koerner • Lancaster • Leeds • Leopard • Lexington • Mei Yuan • Melbourne • Merrimack • Ming Chuen • Monitor • Nebula • Newell • New York • Newton • Nightingale • Nobel • O'Neil • Oakham • Ockham • Oppenheimer • Oxford • Pascal • Pasteur • Pavlov • Phoenix • Prometheus • Proxima • Pythagoras • Ranger • Saladin • Salk • Reston • Schrödinger • Schweitzer • Scott • Stafford • Sutherland • T'Kumbra • Temeraire • Tesla • Tintagel • Tomaselli • Tonawanda • Ulysses • Whitney • Zee-Magnees • Zimmerman • unnamed Nebula-class starships
variant configurations
Magellan-subclass: Magellan

Sutherland-subclass: Sutherland • Huygens • Almagest • Ibn al-Haytham

Terran Imperial Starfleet
(mirror universe)
Berkeley • Nebula
Borg Collective
Douglass • O'Neil • Tonawanda • unnamed Nebula-class starships
Appearances and references
Appearances
References