For other uses, see Endeavour.
The USS Endeavour (NCC-98500) was a 25th century Federation starship, the Endeavour-class dreadnought/star cruiser prototype in Starfleet service from the 2410s decade. (STO - Klingon War mission: "Welcome to Earth Spacedock")
Service history and disposition
[
edit
|
edit source
]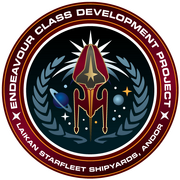 In the 22nd century, the USS Endeavour was the last of the NX class starships, and commanded by Captain T'Pol, the first Vulcan Starfleet officer. (ENT - Rise of the Federation novel: A Choice of Futures)
The prototype Endeavour was developed by the Advanced Starship Design Bureau at the Utopia Planitia Fleet Yards and named for the historical ships bearing that name. (STO mission: "First Contact Day")
It had entered service after the Second Battle of Earth in the Iconian War in the year 2410. The design was an evolution of the Odyssey-class star cruiser and included design callbacks like the narrow, angular saucer section and the angled nacelle pylons to the earlier Prometheus- and the recently launched Presidio-class tactical starships. The Endeavour was a tactical division starship.
From 2410, the Endeavour represented its class in the Starfleet Shipyards Operations interface. (STO - Klingon War mission: "Welcome to Earth Spacedock")
Khitomer Alliance flag officer in, or aligned with, Starfleet, deployed Endeavour for missions around the galaxy's four quadrants as part of the four-quadrant strategy. (STO - Klingon War mission: "Welcome to Earth Spacedock", admiralty system)
Following the Battle of Excalbia on stardate 84999.22[1] in early 2411, which saw the prominent involvement of hero ships from the Federation's past and present, the Endeavour was among the command dreadnought cruisers that received a refit to legendary starship qualifications. (STO - Legacy missions: "Measure of Morality (Part 2)", "Welcome to Earth Spacedock")
Community content is available under
CC-BY-SA
unless otherwise noted.