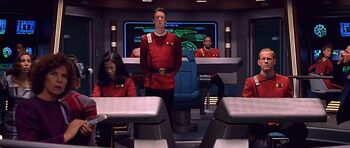 List of crewpeople serving aboard the USS Enterprise-B.
Unnamed USS Enterprise (NCC-1701-B) personnel
↑ The Decipher RPG module: Starships, states that Harriman only commanded the Enterprise between 2293 and 2298, which is contradicted by later novels.
↑ Johnson was only named as a former CO of the Enterprise-B on a cutaway poster of the USS Enterprise-D. Its possible he commanded the ship either during Sulu's year-long leave of absence, or at some point before the ship was either lost or decommissioned, prior to 2332.
Community content is available under
CC-BY-SA
unless otherwise noted.