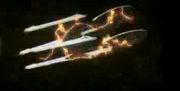 The USS Enterprise was an alternate version of the USS Enterprise-E in a number of realities which were shown to Captain Jean-Luc Picard in 2380.
History
[
]
In one reality, Picard was the captain, Martin Madden was the first officer and Hedril was the counselor.
In another reality, Worf Rozhenko was the captain and spoke an ancient Klingon dialect. (TNG novel: Q & A)
In another reality, Picard was a lieutenant commander, Thomas Halloway was the captain, Data was the first officer, Lieutenant Christine Vale was still at tactical and William T. Riker was in command of the USS Titan. Picard had worked extremely hard since Riker and Deanna Troi had evaluated him years earlier and Riker had given him bridge duty as a final parting gift before leaving for the Titan. Despite his relatively high rank, Picard was still a junior officer. (TNG novel: Q & A)
This seems to be a similar, if not identical, timeline to the one which Q had shown Picard in 2369.
Connections
[
]