For other uses, see Galaxy.
The USS Galaxy (NCC-70637) was the prototype of the Federation Galaxy-class explorer starships in the late 24th century. The Galaxy was launched from the Utopia Planitia Fleet Yards in 2356, and was commissioned in 2357.
Service history and disposition
[
]
Construction history
[
]
The Galaxy was the first member of a highly-experimental new class, with design groundwork being laid down in the early 2340s. The first physical components of the USS Galaxy that were to be assembled as a basic spaceframe began being pieced together on 3 June, 2350 at Utopia Planitia Fleet Yards on Mars in the Sol star system. The Galaxy prototype was assigned the experimental starship registry number NX-70637, which would later be changed to NCC-70637 when the vessel entered active service. The Galaxy was constructed slowly, along with a sister ship, the USS Yamato, as experimental systems were tested. Even after commissioning, the Galaxy remained in the Sol system, testing components that would be improved in later ships of the class. (TNG reference: Star Trek: The Next Generation Technical Manual; Decipher RPG module: Starships; TLE novel: The Buried Age)
Service history
[
]
For most of her history, the Galaxy found herself overshadowed by her more famous sister ship, the USS Enterprise-D. During the Dominion War, however, the Galaxy made a name for herself when she was involved in several engagements, including Operation Return (2374), the First Battle of Chin'toka (2374), and the Battle of Cardassia (2375). (DS9 episodes: "Favor the Bold", "Sacrifice of Angels", "Tears of the Prophets", "What You Leave Behind")
The ship remained as a test-bed vessel for improving system performance over the early part of her career. Improvements were constantly made, such as a 15% improvement in EPS conduit efficiency that was part of an effort spearheaded by a maintenance specialist, Ensign Nara. (ST video game: Starship Creator)
The Galaxy remained a notable part of many fleet actions throughout the 2370s decade. (ST video games: Bridge Commander, Starfleet Command III, Legacy)
In 2379, the Galaxy was assigned to Starfleet Battle Group Omega, a battle group that was assigned to rendezvous with the USS Enterprise-E near the Bassen Rift, in an attempt to intercept Praetor Shinzon's Scimitar and stop its mission to annihilate Earth. Fortunately, the Enterprise was able to destroy the Scimitar before it entered Federation space. (TNG movie: Nemesis)
At some point in the later 24th century, the Galaxy was refit to the specifications of a Galaxy X-class heavy cruiser starship, with an added warp nacelle and central weapon battery, along with numerous other changes. (TNG video game: Birth of the Federation)
25th century
[
]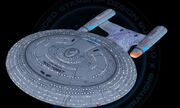 By the 2400s decade, the Galaxy had reverted to its Galaxy-class exploration cruiser configuration. In Starfleet Shipyards Operations shipyard interfaces, the Galaxy visually represented its class from the year 2409 onwards. (STO - Klingon War mission: "Welcome to Earth Spacedock")
The ship shared its name with the USS Galaxy (NX-00000). (STO - Klingon War mission: "Welcome to Earth Spacedock", Z-Store purchasable item)
The USS Galaxy could be deployed by the admiralty for assignments with other ships. (STO video game: New Dawn game mechanic: "Admiralty System")
Notable personnel
[
]
Appendices
[
]
Connections
[
]
Galaxy-class class XVI explorer/exploration cruiser starships
Federation, Starfleet
Standard configuration
Adelaide • Agrippa • Allegheny • Andromeda • Argo • Argonaut • Asgard • Asigara • Bermuda • Berry • Bolivar • Bolzano • Bonhomme Richard • Blake • Breedlove • C. Lewis • Canarias • Canterbury • Cervera • Challenger • Cheyenne • Citadel • Columbus • Constellation • Constitution • Dauntless • Dauntless II • De Ruyter • Defiance • Dominance • Eagle • El Dorado • Endeavor • Enterprise-D • Essex • Excalibur-A • Exeter • Farragut • Formidable • Frontier • Galaxy • Galicia • Geronimo • Gloucester • Goodman • Hedderjin • Hood • Hornet • Hurutaka • Idaho • Intrepid • Jefferies • Jubei • Kinugasa • Kongo • Krieger • Lafayette • Lazarev • Lexington • Lhasa • Madison • Magellan • Makarov • Malevolent • Marquette • Merrimac • Molotov • Monitor • Mukaikubo • Murmansk • Musashi • Navarra • Ning Hai • Odysseus • Odyssey • Ontario • Oraidhe • Oregon • Pequod • Perseus • Persia • Phlox • Renown • Republic • Reverant • Reverent • Robinson • Ronald D. Moore • Rylander • Salem • San Francisco • Saratoga • Scimitar • Sequoia • Sorak • Swiftsure • Sumatra • Taylor • Tikuma • Tori • Trident • Trieste • Trinculo • Tyokai • Ulysses • Valhalla • Valiant • Venture • Victory • Vindictive • Wasp • Wichita • Worcester • Yamato (I) • Yamato (II) • Yorktown • Zhurkov • unnamed Galaxy-class starships
Variant configurations
Andromeda-subclass: Andromeda • Birmingham • Celestial-subclass: Celestial • Envoy-subclass: Envoy • Galaxy X-subclass • Monarch-subclass: Monarch • Samson (variant) • Ross-subclass: Ross • Venture-subclass: Samson (variant) • Venture-A • Venture-B • Yamato-subclass: Madrid
Terran Empire, Starfleet
(mirror universes)
Enterprise-D • Galaxy • Venture-subclass: Galaxy
Borg Collective
(mirror universe)

Assimilation Target Prime
Background
[
]
In Star Trek Online the Galaxy's name and registry number are the default for any NPC Galaxy-class starship. A number of named Galaxy-class NPCs bear its registry as well.
Appearances and references
[
]
External links
[
]