For other uses, see Intrepid.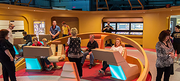 The USS Intrepid was a Federation Galaxy-class starship serving sometime in the 24th century.
Service history and disposition
[
]
The ship was named for the United States aircraft carrier, the USS Intrepid. (ST Performance: "The Starfleet Academy Experience")
The Intrepid was the fictional setting of a real-life, in-universe tour taking place aboard the real USS Intrepid aircraft carrier. Visitors served as cadets, learning to crew the starship Intrepid.
Appendices
[
]
Connections
[
]
Ships named Intrepid
Federation Starfleet
(primary universe)
USS Intrepid (NX-07, NX-class) • USS Intrepid (NCC-1631, Constitution-class) • USS Intrepid (NCC-1730, Constitution-class) • USS Intrepid II (Oberth-class) • USS Intrepid (NCC-2020/NCC-38907, Excelsior-class) • USS Intrepid (Galaxy-class) • USS Intrepid (NCC-74600, Intrepid-class) • USS Intrepid (NCC-74600-A, Intrepid-class) • USS Intrepid (NCC-74600-B, Intrepid-class)

see also: Intrepid-class (22nd century light cruiser) • Intrepid-class (24th-25th century science vessel) • Intrepid-class (31st-32nd century science vessel)

Federation Starfleet
(Kelvin timeline)
Intrepid (NCC-1485, Intrepid-class) • see also: Intrepid-class (23rd century battleship)
Terran Empire, Starfleet
(mirror universe)
ISS Intrepid (NCC-1631, Constitution-class) • ISS Intrepid (NCC-74600-A, Intrepid-class) • ISS Intrepid (NCC-74621-B, Intrepid-class)
United Earth Starfleet
Intrepid (NV-01, Intrepid-class) • Intrepid (NX-07, NX-class)
Galactic Commonwealth, Starfleet
(mirror universe)
free starship Intrepid (jaunt ship)
Galaxy-class class XVI explorer/exploration cruiser starships
Federation Starfleet
Standard configuration
Adelaide • Agrippa • Allegheny • Andromeda • Argo • Argonaut • Asgard • Asigara • Bermuda • Berry • Bolivar • Bolzano • Bonhomme Richard • Blake • Breedlove • C. Lewis • Canarias • Canterbury • Cervera • Challenger • Cheyenne • Citadel • Columbus • Constellation • Constitution • Dauntless • Dauntless II • De Ruyter • Defiance • Dominance • Eagle • El Dorado • Endeavor • Enterprise-D • Essex • Excalibur-A • Exeter • Farragut • Formidable • Frontier • Galaxy • Galicia • Geronimo • Gloucester • Goodman • Hedderjin • Hood • Hornet • Hurutaka • Idaho • Intrepid • Jefferies • Jubei • Kinugasa • Kongo • Krieger • Lafayette • Lazarev • Lexington • Lhasa • Madison • Magellan • Makarov • Malevolent • Marquette • Merrimac • Molotov • Monitor • Mukaikubo • Murmansk • Musashi • Navarra • Ning Hai • Odysseus • Odyssey • Ontario • Oraidhe • Oregon • Pequod • Perseus • Persia • Phlox • Renown • Republic • Reverant • Reverent • Robinson • Ronald D. Moore • Rylander • Salem • San Francisco • Saratoga • Scimitar • Sequoia • Sorak • Swiftsure • Sumatra • Taylor • Tikuma • Tori • Trident • Trieste • Trinculo • Tyokai • Ulysses • Valhalla • Valiant • Venture • Victory • Vindictive • Wasp • Wichita • Worcester • Yamato (I) • Yamato (II) • Yorktown • Zhurkov • unnamed Galaxy-class starships
Variant configurations
Andromeda-subclass: Andromeda • Birmingham • Celestial-subclass: Celestial • Envoy-subclass: Envoy • Galaxy X-subclass • Monarch-subclass: Monarch • Samson (variant) • Ross-subclass: Ross • Venture-subclass: Samson (variant) • Venture-A • Venture-B • Yamato-subclass: Madrid
Terran Empire Starfleet
(mirror universe)
Enterprise-D • Galaxy • Venture-subclass: Galaxy
Borg Collective
(mirror universe)

Assimilation Target Prime
Appearances and references
[
]
Appearances
[
]