For other uses, see Jupiter.
The USS Jupiter (NCC-71267) was an Akira-class Federation heavy cruiser starship in Starfleet service in the 24th century. This ship was in active service during the 2370s decade.(TNG video games: Armada, Armada II)
The vessel had at least one holodeck and a tractor beam. Commanded by Captain Satelk, the Jupiter was the first vessel to be fitted with an experimental chain-pulsar weapons system. (CCG set: Armada, card: "USS Jupiter")
History
In July 2376, the Jupiter helped the starship USS Enterprise-E defend the timeship USS Premonition from a Borg attack in the Barisa sector. (TNG video game: Armada mission: Premonitions)
USS Jupiter was still in active service in July 2377. (TNG video game: Armada II)
Appendices
Connections
Background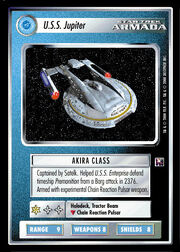 The Jupiter would have been just another of the many historyless randomly selected ships to appear in Armada, however it was given some special treatment in being depicted on a Decipher CCG card which came exclusively with early releases of the game.