For other uses, see Noble.
The USS Noble (NCC-325002) was a 32nd century Federation starship, a Constitution-class[3], Kirk-subclass battlecruiser[1] in Starfleet service in the 3180s decade. The ship operated from the hidden Federation Headquarters space station. (DSC episode: "That Hope Is You, Part 2")
Service history and disposition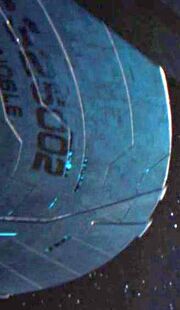 In the year 3189, the Noble was present within the distortion field when Fleet Admiral Charles Vance ordered an attack run on the USS Discovery-A, which was held under Emerald Chain control at the time. The Noble and a sister ship hemmed Discovery in from both sides before the ship escaped the confines of the distortion field.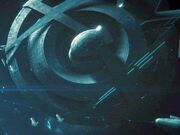 The Noble was part of the combined Starfleet-Ni'Var fleet pursuing the Discovery-A and the Emerald flagship Viridian. After the Discovery crew defeated Minister Osyraa, her regulators and the Viridian was destroyed, the Noble formed part of an honor guard when the Discovery returned to Federation HQ. (DSC episode: "That Hope Is You, Part 2")
Around stardate 865661.2 in 3190, the Noble was present at Federation Headquarters when Ni'Var was concluding negotiations to rejoin the Federation. (DSC episode: "All Is Possible")
Appendices
Connections
Appearances and references
Appearances
References
External link