For other uses, see Odyssey.
The USS Odyssey (NCC-71832) was a Galaxy-class Federation starship, launched in 2364 from the Utopia Planitia Fleet Yards at Mars, under the command of Captain Declan Keogh.
Service history and disposition
[
]
The Odyssey was the fourth scheduled Galaxy-class explorer scheduled for commissioning, after USS Galaxy, USS Yamato, and finally, the famous USS Enterprise-D. In the year 2363, Jean-Luc Picard was being considered for command of the Odyssey, which was scheduled for launch in 2364. Had Captain Thomas Halloway (who was scheduled to take command of Enterprise-D) not retired, Jean-Luc Picard would have taken command of Odyssey. (TNG novel: The Buried Age)
In 2370, the Odyssey assisted the Enterprise and USS Constitution in preventing non-corporeal "demons" from spreading their evil influence throughout the galaxy. (TNG novel: Possession)
A few months later, the Odyssey docked at Deep Space 9 to help establish a Bajoran farming colony on Bajor's second moon. While on the moon, the Bajoran terrorist Orta unearthed the second Malkus Artifact and began using the device to disintegrate his enemies. The Odyssey was recalled from a supply run to the New Bajor colony in the Gamma Quadrant, returning to the Bajoran system in time to help stop Orta's plans. (DS9 - The Brave and the Bold, Book One novella: The Second Artifact)
Following this incident, the Odyssey was assigned a patrol of the Demilitarized Zone. However, she was forced to return to DS9 when news reached the station that Commander Benjamin Sisko and Quark had been taken prisoner by the Jem'Hadar. After offloading all non-essential personnel onto DS9, the Odyssey entered the Gamma Quadrant, accompanied by three runabouts from DS9. The task force was engaged by the Jem'Hadar.
Following the rescue of Commander Sisko and his team the task force began to withdraw, but the Odyssey was rammed by a Jem'Hadar fighter, destroying the starship. (DS9 episode: "The Jem'Hadar")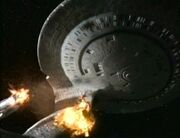 Among the non-essential personnel left on the station were science officer Antigone Chen and her daughter, T'Ryssa. (TNG novel: Greater Than the Sum)
Borath described the destruction of the Odyssey as "regrettable" but Sisko suspected Borath was lying. Odo also mentioned the destruction of the Odyssey to the Female Changeling when he asked her how she could justify the deaths of so many people. (DS9 novelization: The Search)
Appendices
[
]
Personnel
[
]
Connections
[
]
Galaxy-class class XVI explorer/exploration cruiser starships
Federation Starfleet
Standard configuration
Adelaide • Agrippa • Allegheny • Andromeda • Argo • Argonaut • Asgard • Asigara • Bermuda • Berry • Bolivar • Bolzano • Bonhomme Richard • Blake • Breedlove • C. Lewis • Canarias • Canterbury • Cervera • Challenger • Cheyenne • Citadel • Columbus • Constellation • Constitution • Dauntless • Dauntless II • De Ruyter • Defiance • Dominance • Eagle • El Dorado • Endeavor • Enterprise-D • Essex • Excalibur-A • Exeter • Farragut • Formidable • Frontier • Galaxy • Galicia • Geronimo • Gloucester • Goodman • Hedderjin • Hood • Hornet • Hurutaka • Idaho • Intrepid • Jefferies • Jubei • Kinugasa • Kongo • Krieger • Lafayette • Lazarev • Lexington • Lhasa • Madison • Magellan • Makarov • Malevolent • Marquette • Merrimac • Molotov • Monitor • Mukaikubo • Murmansk • Musashi • Navarra • Ning Hai • Odysseus • Odyssey • Ontario • Oraidhe • Oregon • Pequod • Perseus • Persia • Phlox • Renown • Republic • Reverant • Reverent • Robinson • Ronald D. Moore • Rylander • Salem • San Francisco • Saratoga • Scimitar • Sequoia • Sorak • Swiftsure • Sumatra • Taylor • Tikuma • Tori • Trident • Trieste • Trinculo • Tyokai • Ulysses • Valhalla • Valiant • Venture • Victory • Vindictive • Wasp • Wichita • Worcester • Yamato (I) • Yamato (II) • Yorktown • Zhurkov • unnamed Galaxy-class starships
Variant configurations
Andromeda-subclass: Andromeda • Birmingham • Celestial-subclass: Celestial • Envoy-subclass: Envoy • Galaxy X-subclass • Monarch-subclass: Monarch • Samson (variant) • Ross-subclass: Ross • Venture-subclass: Samson (variant) • Venture-A • Venture-B • Yamato-subclass: Madrid
Terran Empire Starfleet
(mirror universe)
Enterprise-D • Galaxy • Venture-subclass: Galaxy
Borg Collective
(mirror universe)

Assimilation Target Prime
Appearances and references
[
]
External link
[
]