For other uses, see Oslo.
The USS Oslo (NCC-79719) was a 24th century Federation starship, the Oslo-class heavy escort prototype in Starfleet service from the 2390s decade. (STO website: Ships of the Line)
Service history and disposition
[
]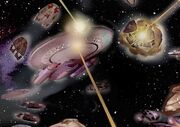 In the 2370s, a USS Oslo was a Norway-class medium cruiser serving in the Dominion War. The Oslo was lost in battle at Setlik in the year 2374. (SCE - Wildfire eBook: War Stories, Book 1)
When the Starfleet Corps of Engineers began working on a successor class for the Norway, they began working with a concept of component modularization in 2390, allowing hull sections to be swapped out between starships. The new USS Oslo, first of the Oslo class, was the first example. Its design incorporated elements of the Akira- and Steamrunner-classes.
The Oslo was launched in 2393. In its initial configuration, the warp nacelles resembled those of the Norway class, and a mission pod connected the aft end of the nacelle pylons. (STO website: Ships of the Line)
The modularization was considered a success, and the SCE and Starfleet Shipyards Operations at Utopia Planitia Fleet Yards refitted other starship classes accordingly. This project was named Fleet Modernization Program. (STO - Call to Arms mission: "First Contact Day")
Heavy escorts like the Oslo saw action against the Klingon Defense Force in the Federation-Klingon War of 2405-2410. By 2409, its warp nacelles resembled those of the Nova-class science vessel, and the mission pod between the pylons was gone. Oslo-class ships could exchange components with the Akira- and Zephyr-classses. In the years from 2409, Starfleet based newer escort classes on the Akira, including the Armitage- and Alita-class strike wing escorts. The Oslo was refitted with new technology compatible with tier 3, tier 5 and tier 6.
From 2410 onward, the Oslo represented its class in the Starfleet Shipyards Operations interface. (STO - Klingon War mission: "Welcome to Earth Spacedock")
Appendices
[
]
Connections
[
]
External link
[
]