The USS Pawnee was a 25th century Federation starship, an Akira-class heavy escort in Starfleet service in the 2410s decade.
The ship may be named for the Human w:Pawnee people.
Service history and disposition
The Pawnee had entered service in the early 2410s.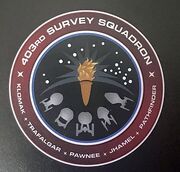 Following the re-activation of the Iconian Gateway Network across the Milky Way Galaxy in 2410, the Pawnee was requisitioned for Starfleet's new four-quadrant strategy of exploration. Starfleet Command hastily assembled survey squadrons. The Pawnee was assigned to the 403rd Survey Squadron, led by the Pathfinder-class long-range science vessel prototype USS Pathfinder. (STO Issue 07: "USS Pathfinder")
Appendices
Connections
Appearances and references
Appearances
STO Issue 07: "USS Pathfinder"