For other uses, see Polaris.
The USS Polaris (NCC-92515) was a 25th century Federation starship, the Polaris-class reconnaissance science vessel prototype in Starfleet service from the 2400s decade. (STO - Klingon War mission: "Welcome to Earth Spacedock")
Service history and disposition
[
]
The prototype Polaris had entered service by the time of the Federation-Klingon War of 2405-2410. The design was an evolution of the 2370s-era Luna-class science vessel. Both the USS Polaris and the contemporary USS Sol were active in the year 2409.
From 2410, the Polaris represented its class in the Starfleet Shipyards Operations interface. (STO - Klingon War mission: "Welcome to Earth Spacedock")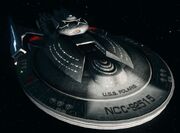 Khitomer Alliance flag officer in, or aligned with, Starfleet, deployed Polaris for missions around the galaxy's four quadrants as part of the four-quadrant strategy. (STO - Klingon War mission: "Welcome to Earth Spacedock", admiralty system)
Appendices
[
]
Connections
[
]
External link
[
]