For other uses, see Regent.
The USS Regent (NCC-97310) was a 25th century Federation starship, a Regent-class tier 5 assault cruiser refit and the prototype of its class. The Regent entered Starfleet service in the 2400s decade and continued operations into the 2410s. (STO - Klingon War mission: "Welcome to Earth Spacedock")
History and specifications
[
]
The Regent design was an upgrade based on the 2370s-era Sovereign-class flagship/heavy cruiser and its 2390s-era Noble-class assault cruiser variant. Like the Sovereign class was named for the sovereign head of state, the new assault cruiser was named for a regent.
The prototype Regent had entered service by the time of the Federation-Klingon War of 2405-2410. Its hull design was a more futuristic take compared to its sister classes, the angular, more militaristic-looking Imperial-class, and the streamlined Majestic-class. (STO - Klingon War mission: "Welcome to Earth Spacedock")
In June 2407, the Regent and the USS Bellerophon-A were part of the Starfleet contingent engaging Klingon forces in the Laurentian system. The Regent maneuvered out of the range of a Vor'cha-class battlecruiser while firing its phasers at Klingon Defense Force targets. (STO Issue 11: "USS Avenger")
From 2410 onward, the Regent represented its class in the Starfleet Shipyards Operations interface. (STO - Klingon War mission: "Welcome to Earth Spacedock")
Khitomer Alliance flag officer in, or aligned with, Starfleet, deployed Regent for missions around the galaxy's four quadrants as part of the four-quadrant strategy. (STO - Klingon War mission: "Welcome to Earth Spacedock", admiralty system)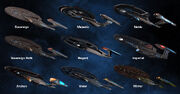 Following the Battle of Excalbia on stardate 84999.22[1] in January 2411, which saw the prominent involvement of hero ships from the Federation's past and present, the Regent was among the assault cruisers that received a refit to legendary starship qualifications. (STO - J'Ula's Discovery missions: "The Measure of Morality (Part 2)", "Welcome to Earth Spacedock")
The Regent was upgraded to a tier 6 legendary miracle worker assault cruiser, matching the qualifications of the new Sovereign-class refit variant, premiered with the USS Sovereign. (STO website: Legendary Miracle Worker Assault Cruiser)
Appendices
[
]
Connections
[
]
References
[
]
External links
[
]