For other uses, see USS Renown.
The USS Renown (NCC-96047) was a Federation Regent-class starship in Starfleet service in the early 25th century. (ST video game: Star Trek Online)
History
In 2409 the Renown responded to a distress signal from a Starfleet vessel crewed by part of that year's Starfleet Academy graduating class, which was under attack by Klingon vessels, and aided in the Klingons' defeat. (STO mission: "Field Promotions")
The two vessels then joined up with the USS Khitomer to investigate radiation anomalies in the Pollux system. These turned out to be the result of a Borg fleet bound for the Vega system. The Khitomer became disabled and the Renown fought to defend her and keep the Borg busy long enough for the Academy cadets' ship to warp to the Vega colony to sound the alarm. (STO mission: "Communications Breakdown")
The Renown and Khitomer survived and escaped to join up with a Starfleet battle group that had scrambled to reach Vega. During the subsequent battle the Renown's warp core was damaged, and Captain Vo'Lok was unable to sent his ship into battle anymore. The Academy cadets' vessel rendezvoused with the Renown to mount repairs. (STO mission: "Assimilation of the Innocent")
Appendices
Background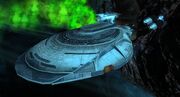 The Renown originally appeared in Star Trek Online as a Typhoon-class starship, but the Season 8 revamp of the Federation tutorial missions retconned her as a Regent-class.
Connections
External link
Community content is available under
CC-BY-SA
unless otherwise noted.