The USS Trosper was an Oberth-class Federation science vessel in service to Starfleet in the 24th century.
Service history
As of 2369, the Trosper was assigned to the Starfleet Corps of Engineers. That year, they responded to a distress call from planet Drema IV. (SCE eBook: Progress)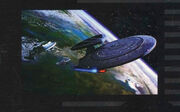 The Trosper was one of the first three starships to arrive at Veridian III following the crash of the USS Enterprise-D in 2371. It was their crew that discovered the visual signal being broadcast by a microtransmitter from Geordi La Forge's VISOR, which had been used by Lursa and B'Etor to penetrate the Enterprise's shields. (TNG - Slings and Arrows eBook: The Insolence of Office; TNG movie: Star Trek Generations)
Crew Manifest
Appendices
Connections
Background
The Trosper was named in honor of Jennifer Trosper, mission manager for the Spirit rover of the early-21st century Mars Exploration Rover mission. While this wasn't established "in-universe" within the narrative of the SCE eBook: Progress, this information formed part of the book's acknowledgements.
External link