For other uses, see USS Tubman.
The USS Tubman (NCC-1757-B) was a 24th century Federation starship, a Constellation-class exploratory cruiser in service to Starfleet in the 2360s decade.
Service history and disposition
In the year 2366, the Tubman was assigned to visit Mariposa, to follow up on the actions taken there by the crew of the USS Enterprise a year earlier. However, the leaders of the newly formed United Ficus Colony did not welcome these visitors. (SCE eBook: Out of the Cocoon)
By 2368, the Tubman-B was reassigned as a training vessel. The ship had a run-in with Catarr brigands while on a training cruise in that year. (TNG comic: "Wet Behind the Ears")
Though there is no direct connection between the two stories, it is presumed the same ship is referenced in both due to the closeness of their timeframes.
Specifications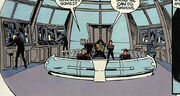 This article or section is incomplete
This article is marked as lacking essential detail, and needs attention. Information regarding expansion requirements may be found on the article's

talk page

. Feel free to edit this page to assist with this expansion.
Personnel
engineering instructors
Appendices
Connections
Constellation-class class XII heavy cruiser/

exploratory cruiser

starships
Federation Starfleet
(primary universe)
standard heavy cruiser configuration
Andromeda • Antares • Antietam • Aquarius • Betelgeuse • Callisto • Canopus • Ceres • Cochise • Constellation (I) • Constellation (II) • Constellation-D • Diadem • Effros • Eridani • Fading Sun • Ferrel • Gibraltar • Gihlan • Indiri • Leonid • Libra • Minora • Nebula • Nova • Orion • Pisces • Polaris • Pulsar • Sagittarius • Sempach • Sirius Major • Speedwell • Stargazer • Taurus • Tubman • Valkyrie • Vespucci • Victory
variant heavy destroyer configuration
Alaska • Anatevke • Asakaze • Baccarat • Cassiopeia • Constance • Daring • Diamond • Dragon • Fabrizi • Gettysburg • Hamner • Hathaway • Hollister • Keppler • Leningrad • Magellan • Malign • Marceau • Meredith • Mitisio • Norris • Rupertus • Tai Kang • Taussig • Volkov • Whirlwind • Zodiac
Terran Imperial Starfleet
(mirror universe)
Starbreaker • Stargazer
Background
The depiction of the Tubman on the J.K. Moore cover art for "Wet Behind the Ears" shows a standard Constellation-class starship configuration as seen onscreen in canon, but the interior art shows the vessel has a different warp engine configuration, similar to the Constellation-class ships shown in FASA RPG reference: Star Trek: The Next Generation Officer's Manual.