---
Spoiler warning:
Plot and/or ending details follow: The following content contains spoilers!
---
For other uses, see Valkyrie.
The USS Valkyrie (NCC-74877) was a 25th century Federation starship, a Sovereign-class battleship[1] in Starfleet service in the 2400s decade. (ST video game: Star Trek Online)
Service history and disposition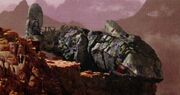 In the 24th century, the name Valkyrie was carried by the Paladin-class starship USS Valkyrie (NCC-68816). In 2369, that Valkyrie was attacked by the Borg at Uridi'si and assimilated, leading to its crash in the Gamma Quadrant and loss with all hands. (DS9 - Mission Gamma novel: Lesser Evil)
The new Valkyrie had entered service by the 2400s.

In the year 2401, the USS Stargazer investigated a spatial anomaly discovered by the USS Avalon. When a massive Borg ship emerged from the anomaly, the Valkyrie was part of the armada Starfleet built up to reinforce the Stargazer and Admiral Jean-Luc Picard. When the Borg Queen boarded the Stargazer, the Borg Collective attempted to seize control of the fleet. Picard self destructed the Stargazer to stop the Borg and save the armada. (PIC episode: "The Star Gazer")
Appendices
Connections
Participants in the Borg-Stargazer encounter in 2400
Federation, Starfleet
USS Almagest • USS Arsinoe • USS Avalon • USS Clark • USS Eureka • USS Europa • USS Excelsior • USS Gagarin • USS Gilgamesh • USS Helios • USS Hrothgar • USS Hutchinson • USS Huygens • USS Ibn al-Haytham • USS Luna • USS Magellan • USS Nathan Hale • USS Oberon • USS Okuda • USS Pachacuti • USS Rabin • USS Reliant • USS Rustazh • USS Shackleton • USS Stargazer • USS Sutherland • USS Thunderchild • USS Uhura • USS Valkyrie • USS Vanguard • USS Venture • USS Yi Sun-sin • USS Zheng He
Fenris Rangers
La Sirena
Borg Collective

Borg Queen's ship (25th century)
Appearances and references
Appearances
References
External links