For other uses, see Vanguard.
In the Kelvin timeline, the USS Vanguard was a Federation starship, a Miranda-class vessel in Section 31 service in the 2250s decade. (TOS - Khan comic: "Issue 4")
Specifications
[
]
The Vanguard had a pair of square, blue-lit warp nacelles. Its rollbar swung in an arc and had pods attached, reminiscent of the Reliant-class. The ventral sensor dome shone yellow. The Vanguard was an unmarked Federation vessel. (TOS - Khan comic: "Issue 4", STO mission: "Welcome to Earth Spacedock")
History
[
]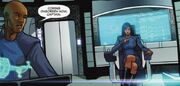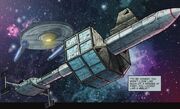 In 2259, Khan Noonien Singh related the story of his recovery by Section 31 to a Federation court. James T. Kirk and Spock questioned the veracity of Khan's account. (TOS - Khan comics: "Issue 1", "Issue 5")
According to Khan, Vanguard was one of a select few Section 31 vessels under Admiral Alexander Marcus, sent on deep survey missions to catch threats to the Federation following the Destruction of Vulcan in 2258. Khan reported Marcus himself told him of it.
In that year, the Vanguard detected the SS Botany Bay drifting in space. The conn officer looked at a hologram of the derelict projected at his station, and reported the discovery to his captain. She followed the new post-Vulcan protocols and brought the 72 Augments, still held in their own suspended-animation pods, to Io Facility near Jupiter. (TOS - Khan comic: "Issue 4")
Personnel
[
]
bridge officer

:

unnamed male Human conn officer

boarding party

:
Appendices
[
]
Connections
[
]