For other uses, see Yamato.
The USS Yamato (registry NCC-71807, NCC-1305-E or NCC-24383) was a Galaxy-class Federation starship in service during the 24th century. The first Galaxy-class ship launched since the prototype USS Galaxy, it was launched in 2363. (TNG short story: "Meet with Triumph and Disaster" TNG reference: Star Trek: The Next Generation Technical Manual)
Service history and disposition
[
edit
|
edit source
]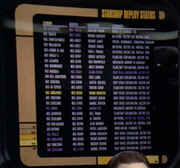 In the year 2365, the Yamato was under the command of Richard McKenzie, assigned to captain Yamato on patrol of sector 134 near the Romulan Neutral Zone. This information was listed on a starship deploy status report on a viewscreen on Starbase 173. (TNG episode: "The Measure of a Man")
This ship was mentioned as part of mission information visible on a computer viewscreen at Data's JAG hearing.
Later in 2365, Captain Donald Varley commanded the Yamato.
Late that year, the Yamato was destroyed with the loss of all hands in the Romulan Neutral Zone. Her destruction was caused by an Iconian computer virus that had been transmitted to the Yamato by a probe. The virus spread through the ship's systems and eventually caused a failure in the matter/antimatter control systems. (TNG episode: "Contagion")
The Yamato had a dedication plaque bearing a motto attributed to Thomas Jefferson: "I have sworn eternal hostility against every form of tyranny over the mind of man". (ST reference: The Star Trek Encyclopedia)
other personnel
Appearances and references
[
edit
|
edit source
]
Community content is available under
CC-BY-SA
unless otherwise noted.