For other uses, see Yeager.
The USS Yeager (NCC-76) was a 22nd century United Earth starship, a Daedalus-class vessel in Earth Starfleet service in the 2150s decade. (ENT - The Romulan War novel: Beneath the Raptor's Wing)
Service history and disposition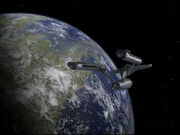 Yeager saw action during the Earth-Romulan War in the 2150s. Captain Gerhard served as the ship's commanding officer by the year 2155.
In October 2155, the Yeager guarded the Human colony on Deneva.
On 16 October, a fleet of Romulan starships ambushed and destroyed the Yeager over Deneva. (ENT - The Romulan War novel: Beneath the Raptor's Wing)
Legacy
By the year 2256, Starfleet had commissioned a larger, more powerful ship named the USS Yeager (NCC-1437). This Yeager was destroyed in the Battle of the Binary Stars, defending the Federation against a Klingon invasion. (DSC episode: "Battle at the Binary Stars")
Personnel
Appendices
Connections
Appearances and references