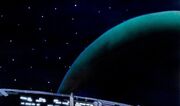 Undalar was a settlement on the planet Bajor.
At some point between the years 2318 and 2323, there was a mine collapse at Undalar. Minister Keeve Falor was keen to point out that new Cardassian technologies had failed to help the Bajorans at Undalar after Kubus Oak attempted to praise the influx of Cardassian technology to Bajor. (TLE - Terok Nor novel: Day of the Vipers)
In 2372, Keiko O'Brien, currently pregnant with her second child, wanted to rappel down the cliffs of Undalar to retrieve a fungus sample. Miles O'Brien was not keen on her doing so. (DS9 episode: "Body Parts")
Community content is available under
CC-BY-SA
unless otherwise noted.