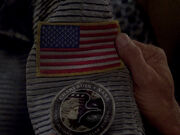 The United States of America was a political entity on the North American continent on Earth. Established in 1776 by declaration of thirteen states, it eventually grew, by 2271, to include 56 states. (TOS novel: A Flag Full of Stars)
During the American Revolution, the Articles of Confederation was established as the governing document of the United States. Following the war, the weaknesses of a government structured on the Articles became apparent, and the Constitution of the United States of America was approved in 1787. The Constitution quickly became one of the most important documents in human history. Later governments - such as the United Federation of Planets - based their governing documents on the United States Constitution. (TOS episode: "Court Martial"; TNG episode: "The Drumhead")
In the mid 19th century, eleven southern states broke away from the Union for several years, and formed the Confederate States of America over disagreements over rights. From 1861 to 1865 the two nations engaged in a conflict which would come to be known as the American Civil War. The war ended in a northern victory, and the former Confederate states all eventually rejoined the Union. The war was a key event in the ending of slavery and oppression on Earth.
As a subdivision of United Earth, and later of the United Federation of Planets, the United States remained a distinct political entity into the 24th century. Many famous Federation citizens have been born in the United States, from Jonathan Archer to Benjamin Sisko to Kathryn Janeway to James T. Kirk. Many of the principles that the United States government was built upon were later expanded to serve as the symbols and principles of United Earth and the Federation; the Statue of Liberty in New York City, for instance, came to be seen as a symbol of Federation patriotism by the 23rd century. The American city of San Francisco is the seat of Starfleet Headquarters and the capital city of United Earth; it receives the most shuttle traffic in the entire Sol Sector.
The President of the United States of America was one of the officials who toured San Francisco in the aftermath of the Breen attack during the Dominion War in 2375. (ST short story: "Eleven Hours Out", "Safe Harbors")
States of the United States of America
[
edit
|
edit source
]
Community content is available under
CC-BY-SA
unless otherwise noted.