This article contains a list of unnamed or unidentified Constitution-class starships.
Docked in Spacedock (2251)
Edit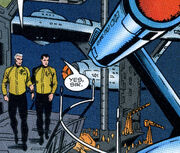 In 2251 a unidentified Constitution-class starship was docked in the same spacedock facility as the USS Enterprise when Captain Robert April walked his successor as captain of Enterprise, Christopher Pike to the Enterprise's docking port. (EV comic: "Flesh of My Flesh")
Docked in Spacedock (2354)
Edit
In 2354, an unnamed Constitution-class starship was docked at the Earth Spacedock when the USS Benjamin Franklin returned from its training mission. (TNG novel: The Haunted Starship)
Wolf 359 wrecks
Edit
At least two refit Constitution-class starships participated in the Battle of Wolf 359 in early-2367. One had either performed a saucer separation during the battle or had been cut apart by Locutus's cube, the other had most of its saucer section vaporised by Borg weapons fire. (TNG episode: "The Best of Both Worlds, Part II"; TNG comic: "Assimilation², Issue 7"; Ships of the Line 2015)
Appendices
Edit
Connections
Edit
External link
Edit
Community content is available under
CC-BY-SA
unless otherwise noted.