This article contains a list of unnamed Galaxy-class starships.
By Year
[
]
Docked in Spacedock
[
]
In 2354, an unnamed Galaxy-class starship was docked at the Earth Spacedock when the USS Benjamin Franklin returned from its training mission. (TNG novel: The Haunted Starship)
Considering the date of the novel, this ship could possibly be the prototype USS Galaxy, which was undergoing performance trials around this time.
In 2377, there were seven to ten Galaxy-class starships part of the 18 ship fleet defending Earth when USS Voyager returned home. (VOY episode: "Endgame")
Alternate timelines
[
]
Claude Picard's armada
[
]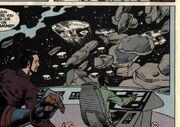 In an alternate timeline, where Starfleet had been subjugated by the whims of dictator Claude Picard by the 2360s, an armada of at least twelve Galaxy-class starships was organized to hunt down the USS Enterprise, which had been taken over by a group of rebels led by Captain William Riker. After a brief communication with the rebels, Picard ordered his vessels to open fire and destroy the Enterprise. (TNG - Annual comic: "The Gift")
Derelicts
[
]
Geble III
[
]
Several derelict unnamed Galaxy class ships were found in orbit around Geble III where the USS Nightingale and USS Sovereign saved their escape pods.(TNG video game: Bridge Commander)
Connections
[
]
Galaxy-class class XVI explorer/exploration cruiser starships
Federation Starfleet
Standard configuration
Adelaide • Agrippa • Allegheny • Andromeda • Argo • Argonaut • Asgard • Asigara • Bermuda • Berry • Bolivar • Bolzano • Bonhomme Richard • Blake • Breedlove • C. Lewis • Canarias • Canterbury • Cervera • Challenger • Cheyenne • Citadel • Columbus • Constellation • Constitution • Dauntless • Dauntless II • De Ruyter • Defiance • Dominance • Eagle • El Dorado • Endeavor • Enterprise-D • Essex • Excalibur-A • Exeter • Farragut • Formidable • Frontier • Galaxy • Galicia • Geronimo • Gloucester • Goodman • Hedderjin • Hood • Hornet • Hurutaka • Idaho • Intrepid • Jefferies • Jubei • Kinugasa • Kongo • Krieger • Lafayette • Lazarev • Lexington • Lhasa • Madison • Magellan • Makarov • Malevolent • Marquette • Merrimac • Molotov • Monitor • Mukaikubo • Murmansk • Musashi • Navarra • Ning Hai • Odysseus • Odyssey • Ontario • Oraidhe • Oregon • Pequod • Perseus • Persia • Phlox • Renown • Republic • Reverant • Reverent • Robinson • Ronald D. Moore • Rylander • Salem • San Francisco • Saratoga • Scimitar • Sequoia • Sorak • Swiftsure • Sumatra • Taylor • Tikuma • Tori • Trident • Trieste • Trinculo • Tyokai • Ulysses • Valhalla • Valiant • Venture • Victory • Vindictive • Wasp • Wichita • Worcester • Yamato (I) • Yamato (II) • Yorktown • Zhurkov • unnamed Galaxy-class starships
Variant configurations
Andromeda-subclass: Andromeda • Birmingham • Celestial-subclass: Celestial • Envoy-subclass: Envoy • Galaxy X-subclass • Monarch-subclass: Monarch • Samson (variant) • Ross-subclass: Ross • Venture-subclass: Samson (variant) • Venture-A • Venture-B • Yamato-subclass: Madrid
Terran Empire Starfleet
(mirror universe)
Enterprise-D • Galaxy • Venture-subclass: Galaxy
Borg Collective
(mirror universe)

Assimilation Target Prime