This article contains a list of unnamed Miranda-class starships.
In the 2270s, a Miranda-class ship was in drydock at the San Francisco Fleet Yards at the same time as the USS Enterprise. (Ships of the Line 2014)
In 2354, two unnamed Miranda-class starships were docked in the Earth Spacedock when the USS Benjamin Franklin returned from its training mission. (TNG novel: The Haunted Starship)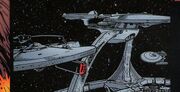 An Miranda-class vessel arrived carrying part of a delegation of Federation diplomats and dignitaries gathered on Deep Space 9 in 2371 to greet Grand Gul Ekhart for a peace summit. The invitation was a ruse, however, resulting from complicity from Ekhart and a terrorist, Gul Shyak, who planned to destroy Bajor and all vistors to the Bajor system with an asteroid containing a protomatter bomb and metagenic weapon seed.
The assembled starships were able apprehend Shyak and Ekhart after a pirate vessel (unnamed pirate transport) piloted by Miles O'Brien and Odo recovered Kira Nerys and Skrain Dukat from the asteroid and detonated the weapon in the Seyom system. (DS9 comic: "Turn of the Tide")
Around stardate 73XX.6, an unidentified Miranda-class starship was one of the ghost ships Counselor Neelix could summon during battles and war game engagements. (ST video game: Trexels missions: "Skirmish", "Events")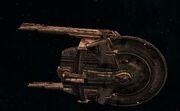 Two derelict Miranda-class frigates were found by an Allied starship near the Tal Shiar's Mysterious Satellite in Nopada Prime's orbit in 2409. (STO - Romulan Mystery mission: "Coliseum")
Community content is available under
CC-BY-SA
unless otherwise noted.